A New Beginning
48" x 72"
Mixed Media on Canvas
This painting is about those seasons in life where there is a fresh start, or, "a new beginning," filled with new possibilities and new opportunities.
At the left side of the painting, the viewer observes the boat launching out with the sun rising behind it. Emerging from the canvas and through the paint are scriptures about the everlasting and unfailing love of God for us. From this realization about how God treasures us, and the revelation about all that God has done for us, one feels moved from within to launch out into a new life and new adventure.
As the eye travels across the canvas toward the middle, the scriptural theme adjusts to those about personal response, devotion, sanctification, and a life of faith and wisdom that brings personal growth and glory to God. Moving then to the right, the words of Jesus' known as, "the great commission," emerge and lead you out to the vast and open ocean of possibility.
Jeremiah 29:11-33 surfaces from the depths of the sea at the lower right, implying that following Jesus into the call to share His message with all people is driven and sustained by the truth that God loves us and has a purpose filled life for us that leads to share this love with others and ultimately, to an eternal hope and an eternal home that waits for us beyond the grave.
Like wind filling the sails, one is continually filled with and moved by the, "thoughts He has for us," as seen through these life-giving words to Jeremiah, the same words that soak the gospel, and the life of one who is surrendered to Him and committed to spreading his love throughout the world. Committed to seeing that Him receive the reward for His suffering and death upon the cross, that many, many, many people might enter His love and find peace with their Father in Heaven, for, "in Your presence, there is fullness of joy, and pleasures forever more(Psalm 16:11)."
Above the sea, the word, "peace," comes through a cloud that leads the way. Not unlike the way the people of Israel were led in the desert with, "a cloud by day," representative of God's presence, in the exodus from slavery in Egypt, Isaiah tells us that when we follow the Lord, we will, "go out with joy, and be led forth with peace(Isaiah 55:12)."
Like C.S. Lewis said, speaking of the person who has put their faith and trust in Christ and in the journey He's charted out for them, "There are far, far better things ahead than any we leave behind."
Be Still
48" x 72"
Mixed Media on Canvas
Isaiah's Tree
36" x 48"
Mixed Media on Canvas
Ethiopian Mother
24" x 30"
Mixed Media on Canvas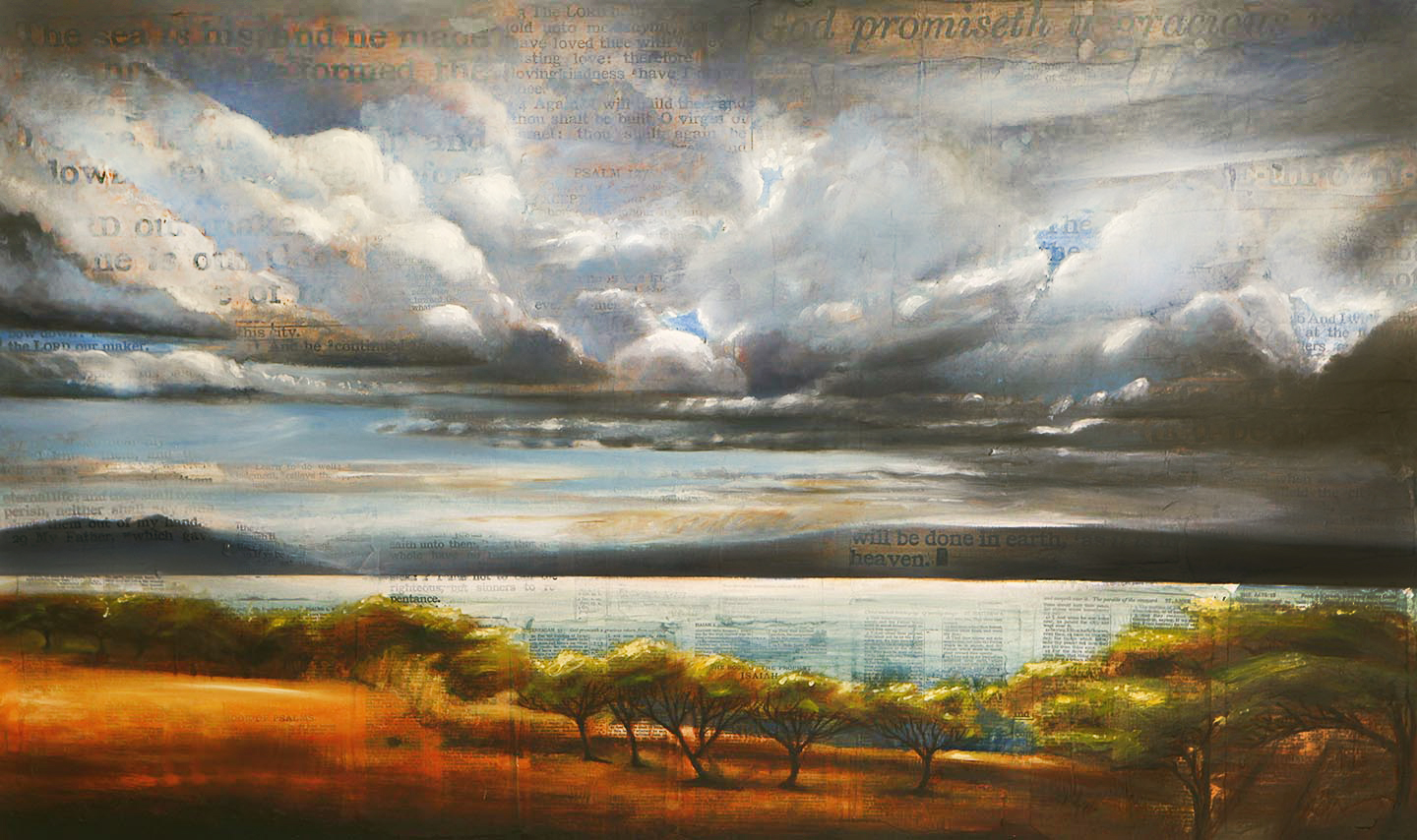 Langano Lake, Ethiopia
Mixed Media on Canvas 36" x 60"
(Prints are available on canvas and on paper at various sizes. See Store or contact me if interested in an image not seen there.)
Ethiopian Child
24" x 30"
Mixed Media on Canvas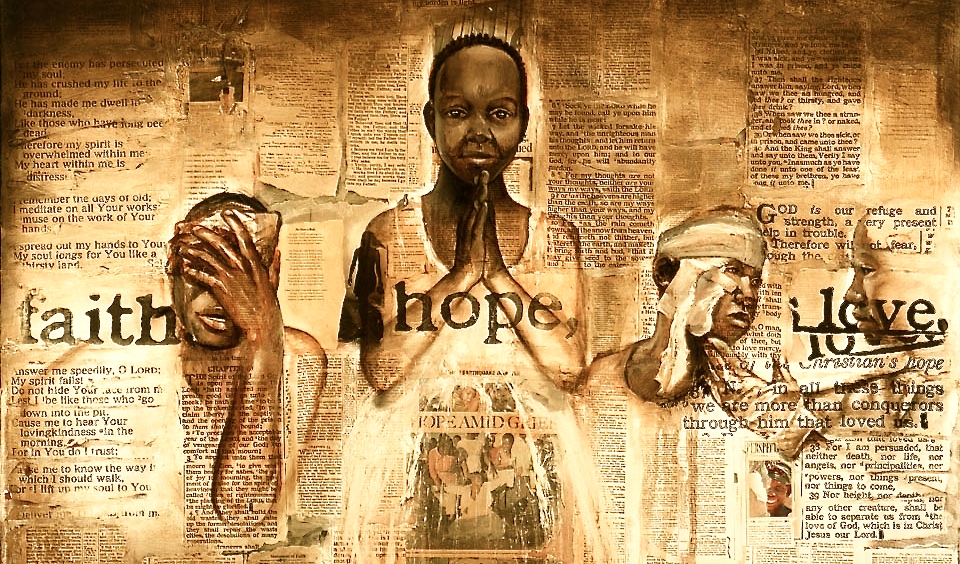 A Prayer for Haiti
48" x 60"
Mixed Media on Canvas
Callelily
10" x 16"
Mixed Media on Canvas
Mosaic in photos | The Face of Christ as Seen Through His People
4' x 8'
Paper print mounted on panel
An Anchor for the Soul
48" x 48"
Mixed Media on Canvas
"…we who have fled to Him for refuge can have great confidence
as we hold to the hope that lies before us. This hope is a strong and
trustworthy anchor for our souls. It leads us through the curtain into
into God's sanctuary. Jesus has already entered there before us, for
He has become our eternal High Priest…"
-Hebrews 6:18-20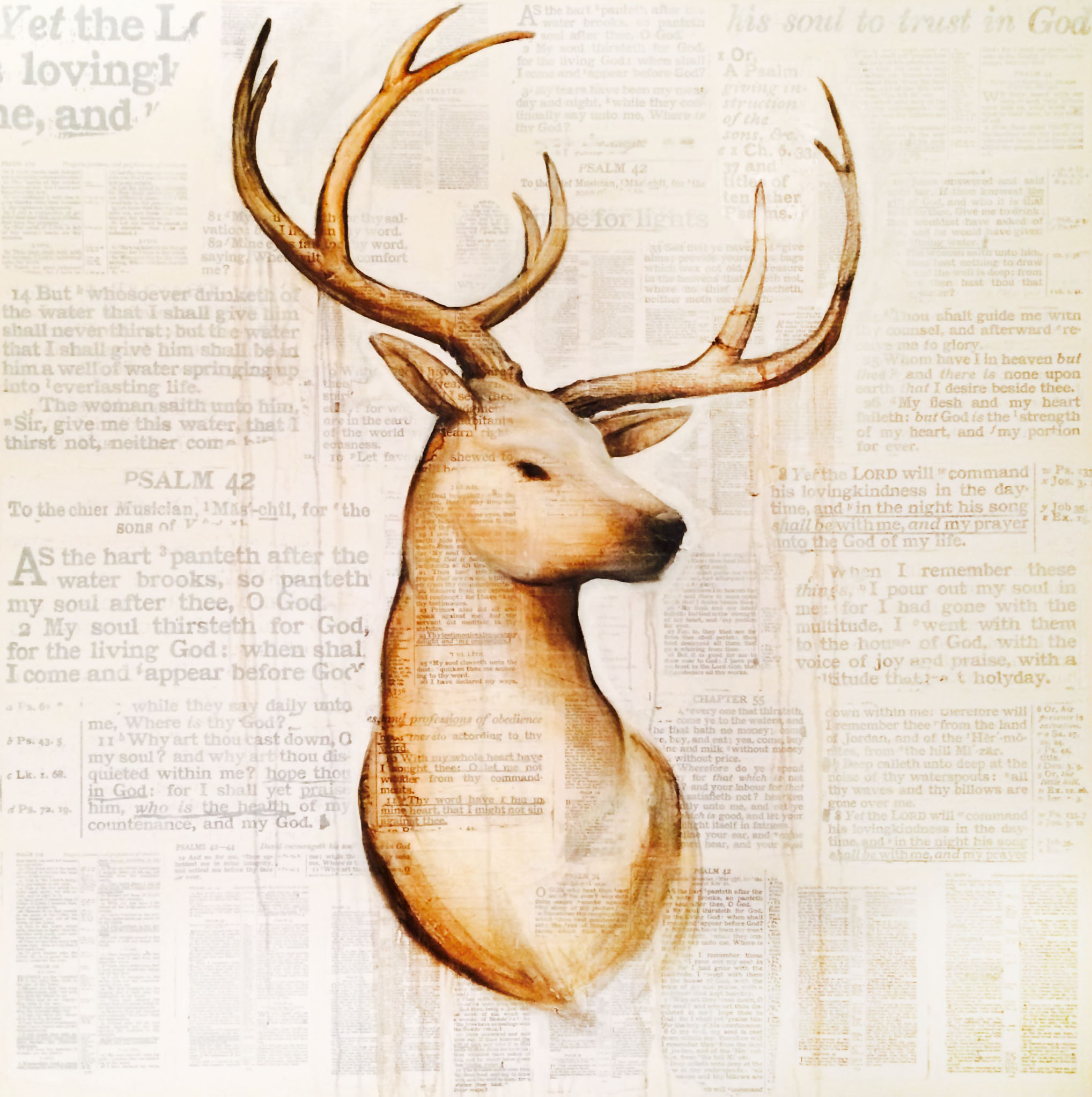 Stag | Psalm 42
48" x 48"
Mixed Media on Canvas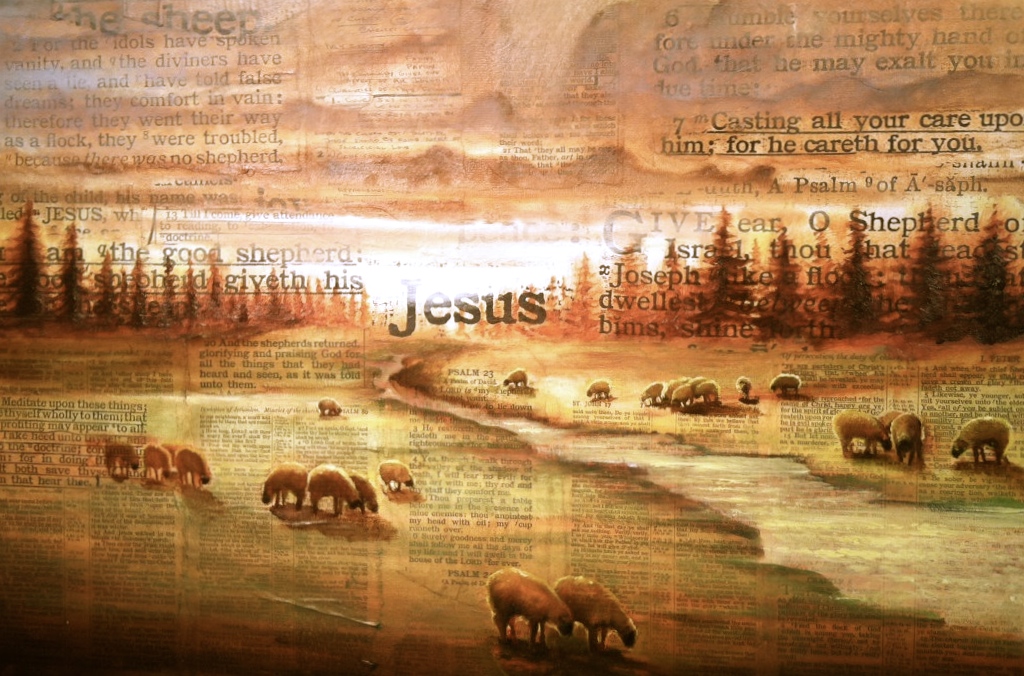 The Shepherd
24" x 36"
Mixed Media on Canvas
Good Friday
60" x 72"
Mixed Media on Canvas
A few years ago, I was contemplating Good Friday and wondering
why it wasn't more of a focus in our evangelical tradition as
Christmas and Easter. It is the only day of the year where the word,
"good," is attached to it, and I wanted to rethink what I understood
as to what it was that made this day so good.
We know great scriptures and hymns about the blood of Christ, and
we've heard great sermons on the subject and even have films like
the Passion of the Christ that remind us of what was endured to
make available this priceless provision that could wash away all sins
and cleanse us from all unrighteousness. But for me personally,
during that particular passion week, I wanted to see something that
conveyed not just the blood itself, but His precious blood running
over and covering all of my sin. Every one of them. The seen and the
unseen. The sin I am conscious of, and the sin that I am unconscious
of. All of my sin, covered and carried away as far as the east is from
the west, He remembers it no more. I wanted to see it,
not just know it, so I put paint to canvas.
As your eye moves from the bottom, through the blood and above
the carnage, light, power, and grace rises up into a new life, in Christ,
and a hope that is secure, prepared in Heaven for me and for all
those who have put their faith in Christ. The words covering the
upper part of the canvas speak of the those things that are most true
about us, as new creations, in Christ, with a new identity, a new
desire, a new citizenship, in a new kingdom with a new mission. The
upper portion of this painting depicts how God views the man or
woman who has now put their faith in Christ. I suppose this painting
could be considered a self portrait of sorts, although the same thing
is true of all of us who love the Lord. I think if I remembered the
truths this painting depicts about me, and my brothers and sisters in
Christ, and about what's possible for those who have not
yet been saved, I would be much more loving and gracious person.
Trust | Winter
24" x 30"
Mixed Media on Canvas
Renew | Spring
24" x 30"
Mixed Media on Canvas
Hope | Summer
24" x 30"
Mixed Media on Canvas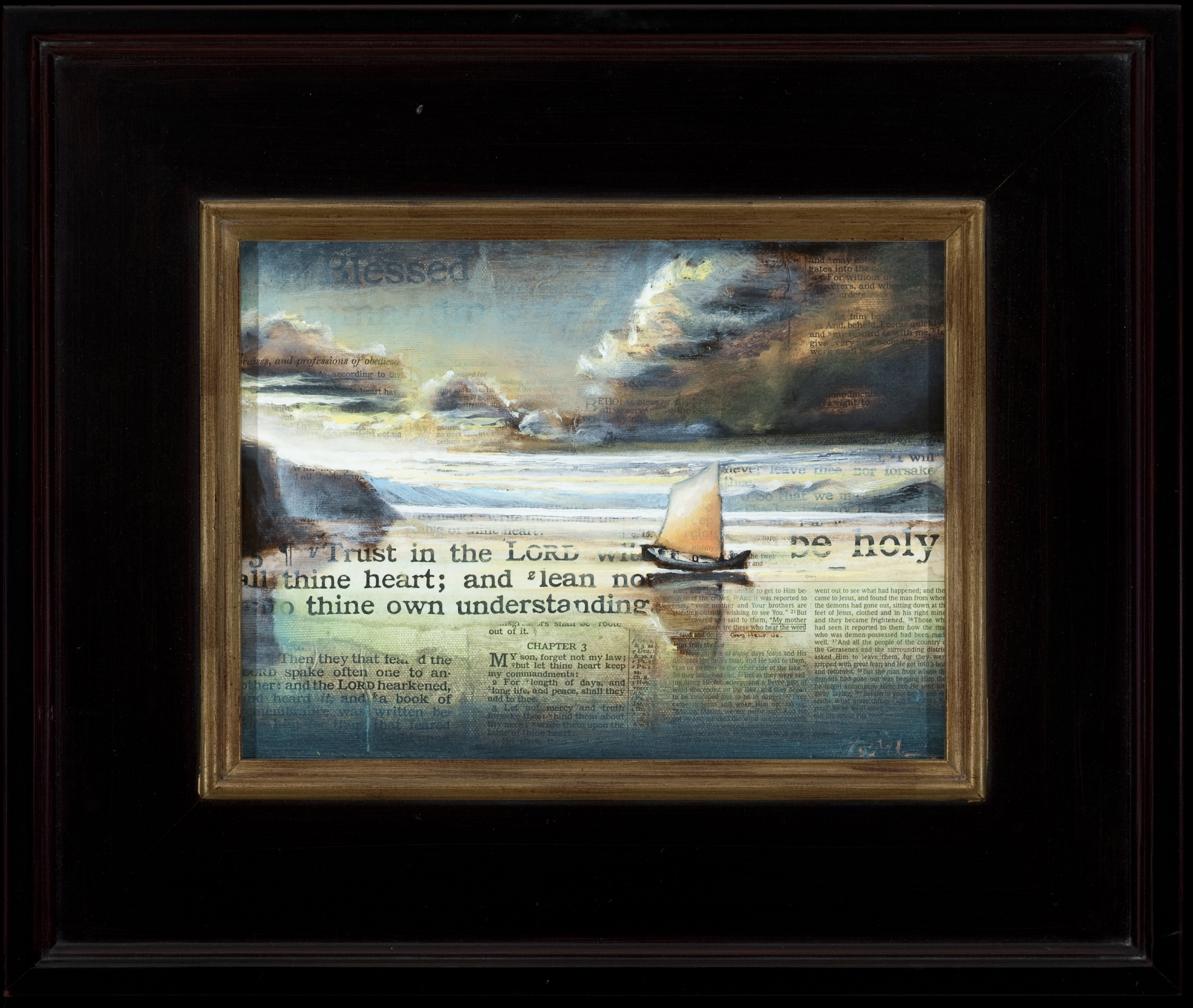 Journey
12" x 20"
Mixed Media on Canvas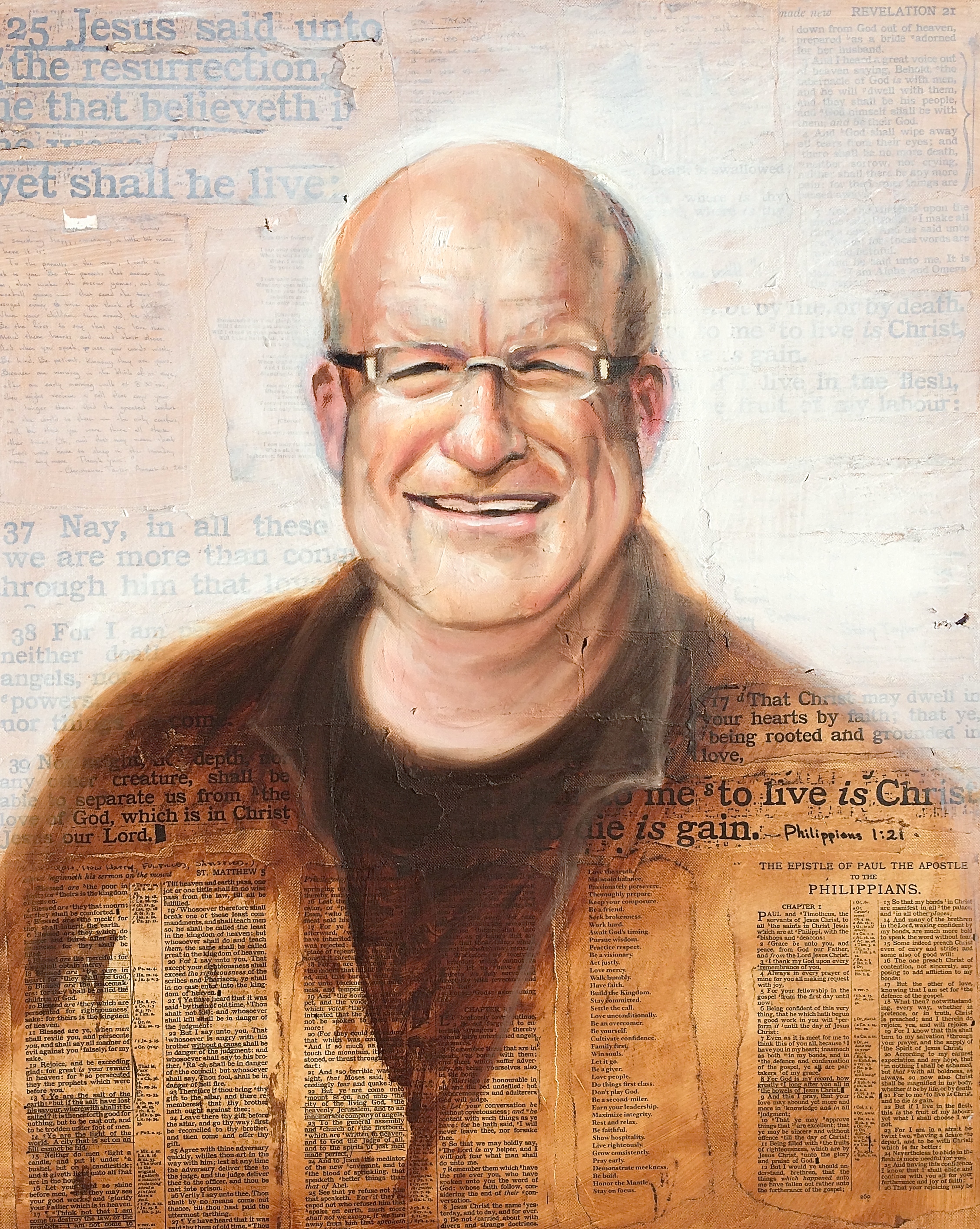 Stacy Taylor
24" x 30"
Mixed Media on Canvas
Rooted and Grounded
48" x 48"
Mixed Media on Canvas
Rescue
28" x 60"
Mixed Media on Canvas
Twenty-third Psalm
36" x 48"
Mixed Media on Canvas
The Swan
48" x 72"
Mixed Media on Canvas
Vineyard
48" x 60"
Mixed Media on Canvas